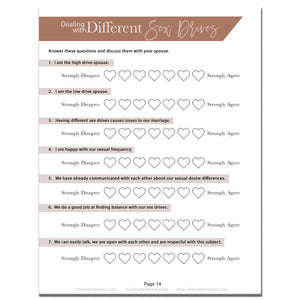 The Ultimate Intimacy Sexual Intimacy Marriage Workbook
Do you have a hard time talking about Sexual Intimacy in your marriage?
Are there barriers that are keeping you from having the sexual intimacy you desire in your marriage?
Is sexual intimacy (or lack of) a source of contention in your marriage?
If so, this sexual intimacy marriage workbook is for you!
This intimacy conversation course PDF file is a great asset for your marriage relationship. With over 66 pages and over 20 different topics of printable questions and conversation starters, goal setting sheet, topic information, calendars, charts and more, this course is designed to get you talking about all things Sexual Intimacy in your marriage.  
We believe that communication is VITAL for a healthy and happy marriage!  We also believe that if you can talk about Sexual Intimacy, you can probably talk about everything else!
This workbook/course uses a combination of education and question prompts from various topics to help you both learn together, discuss and implement some of the most essential communication skills when it comes to sexual intimacy. These super important topics will help to set up your marriage for deeper connection and Ultimate Intimacy in your marriage relationship. 
We also believe that Sexual Intimacy in marriage should be fun, passionate, and deeply connecting. There are so many barriers and distractions in life that can keep people from having Ultimate Intimacy. This workbook/course printable is sure to help you in your marriage and get you discussing everything about Making Love. 
This course was put together by a married couple with over 20 years of marriage experience, and owners of the Ultimate Intimacy app and products brand. 
WHAT YOU'LL RECEIVE:
66 pages total, instant download digital file - you will NOT receive any physical product.  
Upon completed purchase you will immediately receive a link to download your file. 
You will receive 1 PDF Download to print at home or print at a local copy center.  Personal USE ONLY. 
TAKE A LOOK AT THE TOPICS INCLUDED:
Cover Page
Table of Contents
Communication 
Making love vs having Sex
Barriers to Intimacy 
Dealing with Different Sex Drives
Desire Styles
Sex languages
Getting in the mood for Sex
Getting prepared mentally
At home date ideas
Foreplay Fun
Anticipation of Love making
Sensual Massage
Scheduling Sex
Bedroom Routines
Bedroom Atmosphere
Initiating in marriage
The Clitoris
Benefits of Sex
Things that destroy intimacy
Overcoming sexual dysfunctions
What is ok and not ok?
Position Fun / Trying new things
Questionnaire and Goal Setting
Setting up for lasting intimacy
Marriage Challenges
FORMAT OF THIS COURSE:
This workbook/course is standard US Letter Size (8.5 x 11 inches) and is in PDF format, so you will need to be able to open PDF documents on your computer. Adobe Acrobat is a great, free software program that allows you to open PDF documents on your computer. 
OUR TERMS OF USE:
You can NOT reproduce, redistribute, duplicate, or resell this item. This item is for personal USE ONLY.  You can share with your spouse and no one else. 
NO REFUNDS:
We do not refund digital files. All sales are final. Please let us know if you have any problems with your order, customer service is very important to us. Please read all listing info before purchasing. 
This is not marriage therapy and is not designed to replace that. This is designed for couples with a healthy marriage who want to make their relationship even better. This course is designed to help with Sexual Intimacy (Emotional Intimacy course will be sold separately). If you are suffering from any sort of addiction, sexual trauma or abuse, please seek professional help.