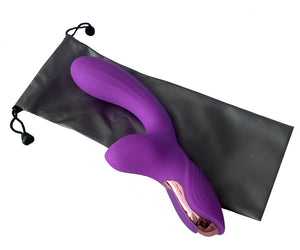 AMAZING Vibrator with suction for clitoral stimulation
This is hands down the most amazing product we have every used!! She will be begging to have sexual intimacy :). And... if you husbands finish before your wife does, no problem! With the Ultimate Intimacy Vibrator you can take care of her needs in minutes.

The Ultimate Intimacy Vibrator will enhance your loving making and take your sexual intimacy to a new level. This is great tool to use during foreplay, to help her get in the mood, and to reach orgasm much easier through direct stimulation to the clitoris.
The vibrator has several vibration levels/speeds so you can find what works best. It also has a suction option which simulates oral sex, that can also be adjusted to stimulate the clitoris. Many couples also like to use the vibrator on the outside as well for direct clitoral stimulation. 
There are various modes and ways for this versatile product to be used.
Trust us, she will thank you for it.

♥Luxurious clitoral suction stimulator
♥10 levels of compelling intensity 
♥USB Rechargeable
♥Material: Silicone
♥Rechargeable and waterproof 
Also comes with a storage/travel bag, and charging cable.
Free shipping in the US and comes in discreet packaging. Comes in either pink or purple.
FACT - DID YOU KNOW THAT AROUND 80% OF WOMEN CANNOT ORGASM THROUGH INTERCOURSE ALONE? THE CLITORIS IS THE KEY TO UNLOCKING FEMALE PLEASURE.
Message us with any questions you may have at amy@ultimateintimacy.com