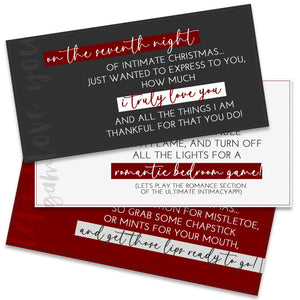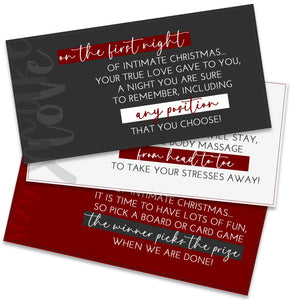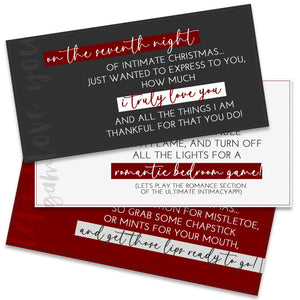 12 Days Of "Intimate" Christmas Coupons
This holiday season, prioritize your marriage with our exclusive 12 Days of Intimate Christmas Coupons Printable, specifically designed to reignite the passion and strengthen the emotional and sexual intimacy in your marriage. 
In the midst of the holiday hustle and bustle, these 12 nights of intimate Christmas coupons serve as a thoughtful and exciting gift to spice up your connection and passion in your relationship. 
These make a great gift FOR Christmas if you want to do the 12 Intimate nights after Christmas. Either way, your spouse is going to thank you! 
Each coupon unlocks a unique experience, encouraging you as a couple to carve out precious moments for one another. From romantic gestures to playful, intimate encounters, these coupons provide a simple 12 night plan for fostering closeness during this upcoming hectic holiday season! 
After purchase you will receive:
- ONE PDF file with 4 pages (3 coupons on each page)
- You will not receive any physical item, this is a DIGITAL DOWNLOAD you will need to print, and cut. 
You will want to download the file on your computer. If you have any issues with the download or anything just email us at
amy@ultimateintimacy.com
and we can help.