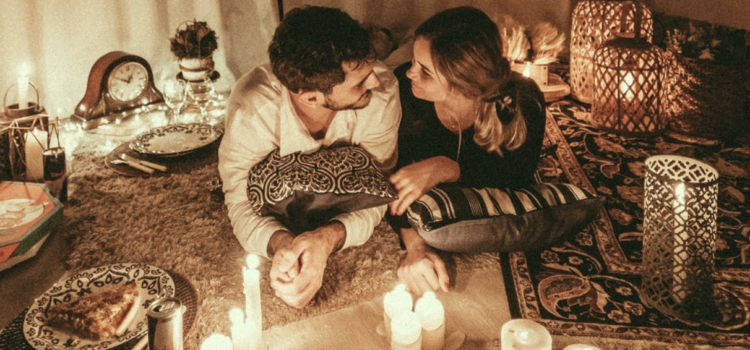 Over time, many couples see their sexual intimacy and connection in the bedroom dwindle, which is very sad. Sex should be like riding a bike, practicing an instrument or anything else we desire to get good at… it should be one of those areas where the more we practice it, learn about it, and learn about each other, the better we should get at it and the more satisfying it should be! We have been married for over 20 years now and our sexual intimacy has never been better. There are even some days where we have sex more than once a day! We just really enjoy being together, connecting and satisfying each other sexually and the better we get at it, the more we enjoy it. We have learned a lot of things through these years and want to share our bedroom tips on how to turn your spouse on (and drive them crazy in the bedroom). Don't worry, we cover both men and women in this article 🙂
AMY'S TIPS – HOW A HUSBAND CAN DRIVE HIS WIFE CRAZY (in a good way)
Set the mood! Create the perfect ambience (environment)
Setting a good mood or environment can be key in driving your wife crazy. As every woman is different, we can't tell which one your wife wants… that is for you to find out, but some of the things that can help set the mood are:
Find out whether she likes the lights off, on, or dimmed to get in the mood.
Fill up a bubble bath with some salt, or bubble bath. Make sure the water is the perfect temperature. Get it with her and look into her eyes, tell her how beautiful she is and lean in to kiss her.
Add some music in the background (find out what music she loves).
Light a scented candle or use some other fragrance to set the mood.
Bottom line, find out what your wife likes and create the perfect mood and atmosphere to show her what an amazing husband you are!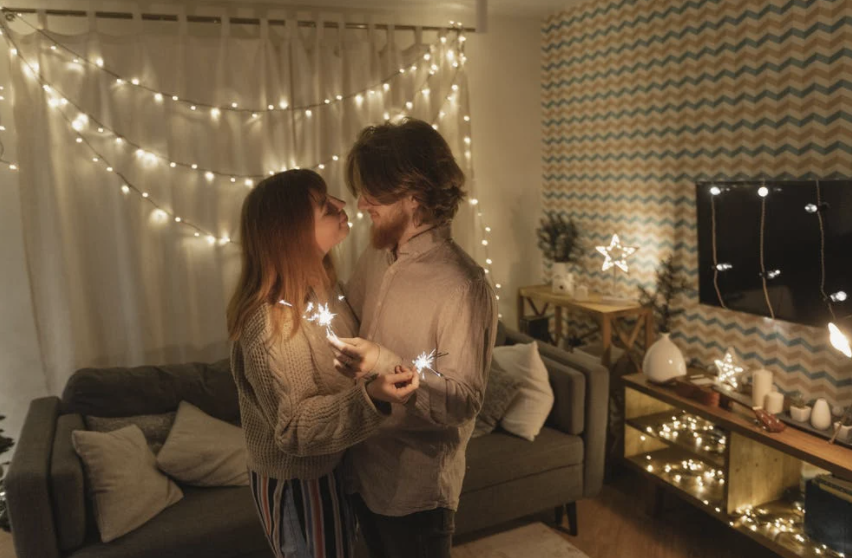 Don't be in a hurry to get her clothes off!
Most husbands hurry and just straight to ripping off his wife's clothes! If you are one of these men that thinks this is what your wife always wants (once in a while it's great)… think again! There is something about making out with your clothes on for a little while. Teasing can create a ton of arousal. Maybe take off everything but her bra and underwear and make out for a little while. Make foreplay slow and exciting. Try kissing and touching her on top of her panties. Arousal will get built up over time and make sex even better!
Please her with foreplay
Foreplay is an absolute with driving your wife crazy! While men can just jump right in and be ready to go instantly, we as women love foreplay and the slowness of it. Foreplay can be amazing and if done right, and our husbands take the time necessary, it can drive us crazy in a great way!
Foreplay also prepares our bodies (as women) for sex by helping give our body time to naturally lubricate. This will make sex a lot more pleasurable for your wife. Husbands, try giving your wife a sensual message, rubbing her thighs, breasts and bottom firmly with your hands. While doing this, kiss her gently on the lips and neck, talk to her and tell her how beautiful she is and most of all, take your time and don't be in such a hurry. It means a lot to women that you are willing to spend the time really turning us on and letting us get in the right frame of mind for sex. Our brain is our biggest sex organ and taking the time to let us concentrate on sexual arousal and feel really good is very important.
Oral
We know many people don't feel comfortable with oral sex and we respect that, but for those who do, stimulating your wife with your mouth (if done the right way) can be an amazing experience for her. Check out a lot of great oral techniques (to drive your wife crazy) in the Ultimate Intimacy App under resources and articles for ideas your wife will love.
Oral does not need to take place of intercourse. It can also be just a few minutes at the beginning to get her aroused fast. For a woman, getting aroused fast in the right spots, but then taking your time to keep her aroused makes love making so much better! Then sex feels good the whole time and not just during orgasm.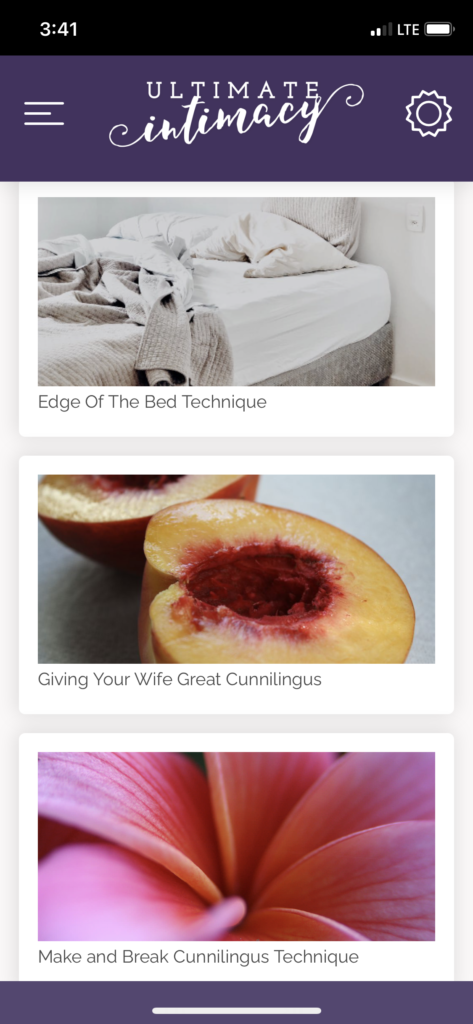 Take control
Most women love when their husbands take control in the bedroom. When we say take control, we do not mean being dominant or treating your wife roughly or disrespectfully in ANY way. Make sure that you have her pleasure in mind at ALL times. Taking control can still mean being gentle. Ask her what she wants you to do for her, how she wants to be touched, and where.
Tease her (in a good way)
Don't just jump into sex! Take your time and tease her to the point where she can't take anymore because you are driving her crazy! Once you start making love, don't just make sure you go from start to finish, stop during the act and do things to keep it slow and prolonged. You can play a game like the Ultimate Intimacy App which is designed to prolong sexual intimacy and make it mind blowing!
Couple's go through the actions they both like and customize the game to their liking. The wife picks hers (without her husband knowing what she is picking) and vice versa. Couples set the time for the amount of time for each action and then take turns doing things for each other (and together). If you want the most amazing way to drive your wife crazy, tease her a little by playing the Ultimate Intimacy Bedroom Game! It will be the only game that she will be begging you to "quit" 😉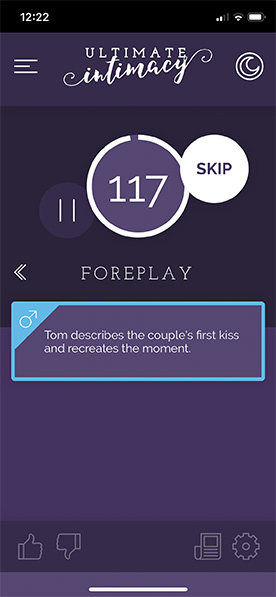 NICK'S TIPS – HOW A WIFE CAN DRIVE HER HUSBAND CRAZY
Initiate Sex
Men and women both often assume it is the husband's responsibility to get his wife in the mood for sex, or to turn her on. While there are a lot of things a husband should do to turn his wife on, it is not always his responsibility to initiate sex. In a lot of marriages, it is the husband that is always initiating sex and it makes the husband feel like his wife doesn't crave or desire him sexually.
We have heard from many wive's that they feel uncomfortable initiating sex and just wait for their husband to do it. It is important for a wife to know how to get mentally and physically in the mood for sex and initiate it. She could envision her favorite memory with her husband, or sexual experience they have had to bring those feelings and emotions again. If you want to drive your husband crazy, try initiating sex with him! It will drive him crazy and feel like a new man!
Fun ways to initiate could be: sending him a sexy text during the day, sending him a picture of you in lingerie, telling him in the morning that you just cant wait to please him later tonight, leave him a love note somewhere saying how much you want him, etc. Men like small sexy surprises too 🔥
Make sex fun!
Trying new things in the bedroom can be AMAZING for both spouses but when a wife tells her husband she wants to try something new, play a game or change things up, this can be very exciting! If you have listened to our experience as to when Amy approached me with a bedroom game to spice things up, my first reaction was "am I not good enough?" or that I couldn't satisfy her. After having good communication I knew that was not the case. Express and communicate with your husband why you want to spice things up, try new things, play a game or whatever it may be to make sex fun and more enjoyable. Just like it did with me, it will drive your husband crazy 🙂 Check out one of our clean and amazing products to spice things up and bring FUN into the bedroom.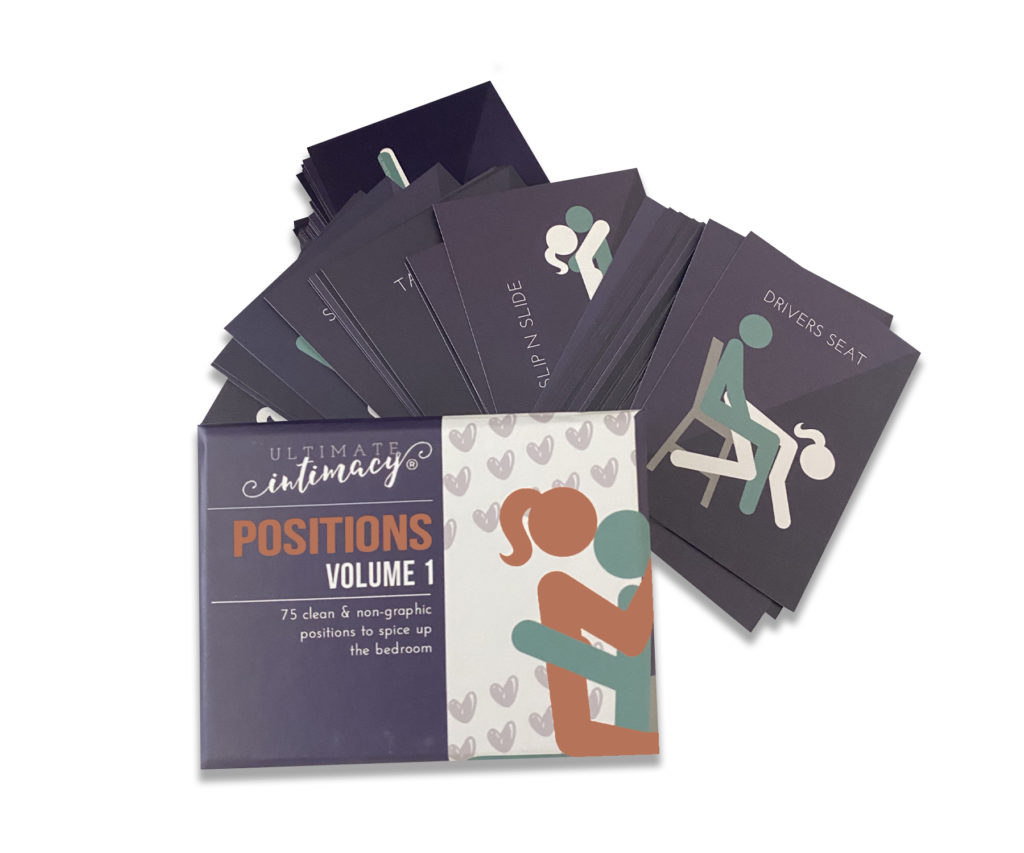 Be visual with your husband (Give him a show)
Men are VERY visual and love to see you naked, in lingerie or anyway you will let him see you. HE JUST WANTS TO SEE YOU! Visual stimulation and seeing you naked is the fastest way to get your man aroused and in the mood. Try putting on some lingerie for him, or just wearing a top around the house. He wants to see your beautiful body! Mentionable's is an amazing affiliate of ours that is clean and classy. Check out their AMAZING products HEREor by clicking on the picture below.
Years ago Amy was on a "girls weekend" away and was at a store buying some lingerie. She went into the dressing room to try it on and took a picture and sent it to me. Needless to say I couldn't stop looking at the screen thinking how beautiful and amazing she is and how I was the luckiest guy in the world. I didn't sleep much that night as all I could think about was her! To say it drove me crazy for her was an understatement. I am embarrassed to say but I had to delete the picture from my phone the next day as I literally couldn't get anything done with work as I just wanted to stare at my beautiful wife 🙂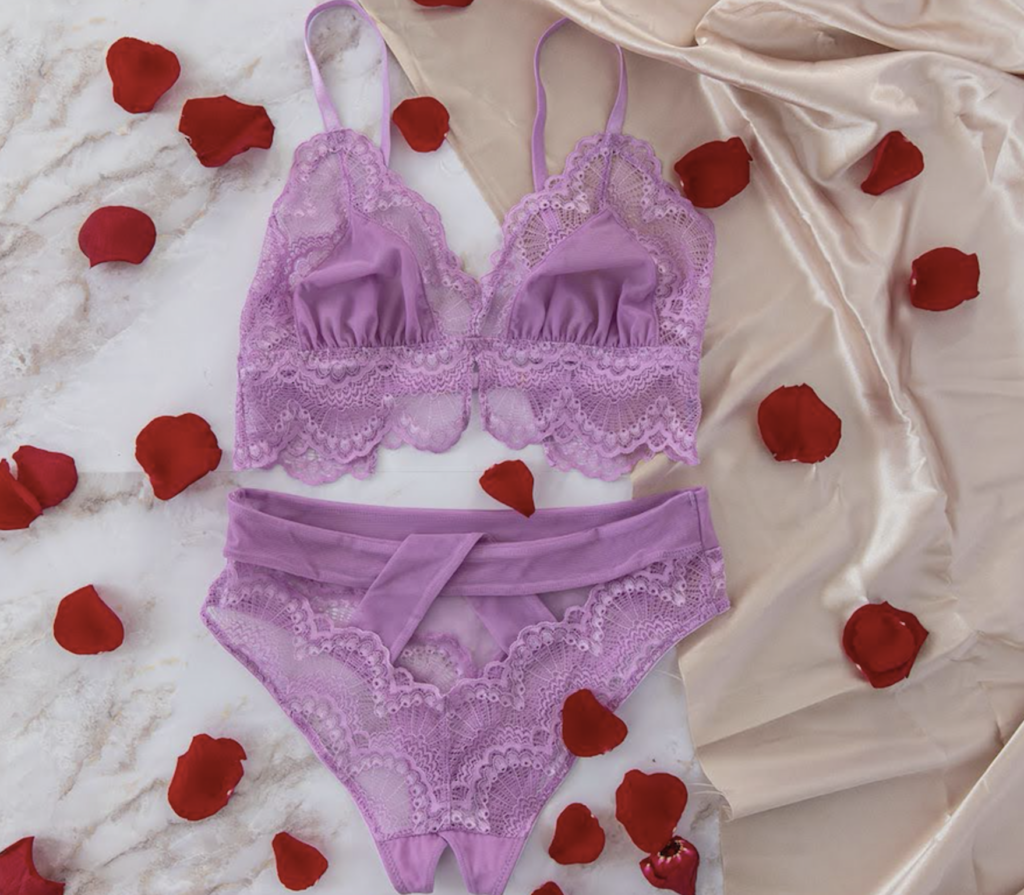 Touch your husband
In my experience, most men are "physical touch" as their love language. Therefore men are always wanting to touch their wife's body as that is the way they feel love, so it is only natural to express it in the same way. In our marriage, physical touch is not my wife's love language, so even though I am always wanting to touch her, massage her and just be close to her (which I am touching her constantly) touching is not something she does to me very often.
During foreplay or sexual intimacy, I am the one touching her all over her body. I would assume many men experience the same thing. When a wife touches her husband (in the way a husband touches his wife), it drives a husband crazy and makes him feel like his wife desires him and thinks he is a sexy stud! Touch your husband and watch it drive him crazy!
Talk sensually to your husband
I don't like saying "talk dirty" as it comes across as implying swearing or saying things that could be considered dirty or weird. Instead talk sensual to your husband. Whisper in his ear what you are thinking, or what you want him to do later or your sexual desire, or send him a text with a sexy message or picture. The Ultimate Intimacy App has a great secure chat feature where all messages are encrypted and decrypted so you don't have to worry about anyone else seeing anything. We also have sexy text messages you can send him under the "intimate extras" section of the Ultimate Intimacy App.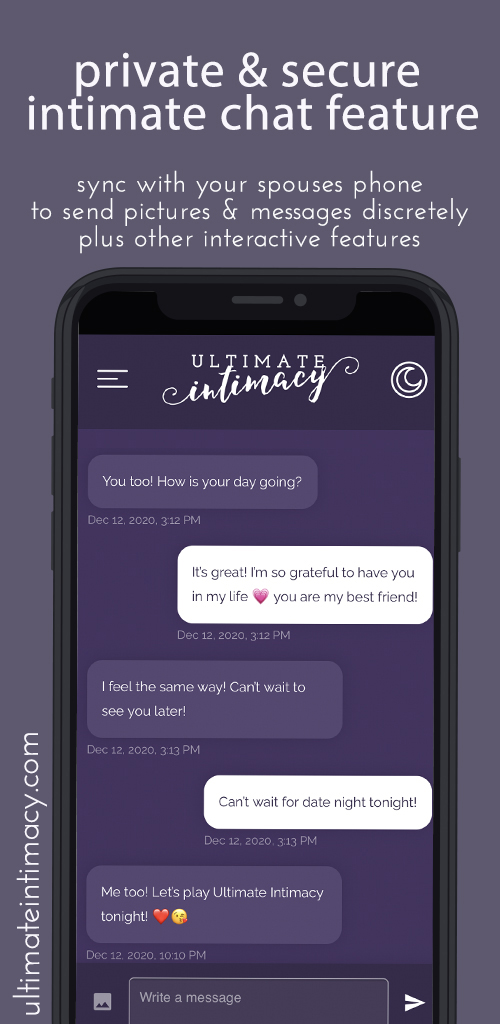 If you are looking for a way to spice up your marriage and have a better emotional and physical relationship, check out the #1 marriage app for couples on the market! Ultimate Intimacy will help you reignite the spark in your marriage! There is a reason it has a 4.8/5 star rating in the App Store and over 400,000 people have downloaded the app! Just click on the picture below to learn more and download for free today.